"When Cardinals Appear"

Item #165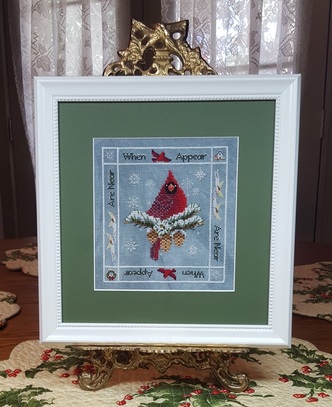 Both designs were stitched on 32 Count Belfast Linen, Storm, by Picture This Plus Company using DMC threads along with Kreinik Blending Filament #32, and Mill Hill beads 42010. The cardinal and evergreen branches, except for the few over one around the cardinals face, were stitched over two using two strands of threads. Use one strand of Kreinik blending filament only with DMC colors #5200, #414 and #415 for the snow on the evergreen branches under the cardinal. The white border around the cardinal was also stitched over two using two strands of threads. The remaining stitches; snowflakes, birdhouse with bird, wreath, mini tree, and wording were all done over one using on strand of thread.

French knots were used for the cardinals eyes, and straight stitches were used for the evergreen needles on the branches. Also used Mill Hill breads #42010 for the snowflakes. One bead was used for each snowflake around the outer edge of the ornament. Use the dots on the snowflakes around the cardinal as a guide for placing the breads to each snowflake.

When Cardinals Appear - with wording
Design Count: 75w by 80h Stitches
Design Size: 16 count, 4-5/8"w by 5"h

When Cardinals Appear - with outer edge snowflakes
Design Count: 67w by 71h Stitches
Design Size: 16 count, 4-1/8"w by 4-3/8"h

---
Some of you had shown an interest in stitching the cardinal, in the round, surrounded by some snowflakes, so I created a template for you to use with your pattern. In the link below, you will find a pdf file to make it easier for you to stitch the cardinal as a round ornament. Enjoy!
Additional items needed to assemble this ornament:
Rainbow Gallery -Artic Rays Wispy Fringe –AR2
Total Framing 4"round acid free mat board - 703-870-7937
When Cardinals Appear snowflakes
---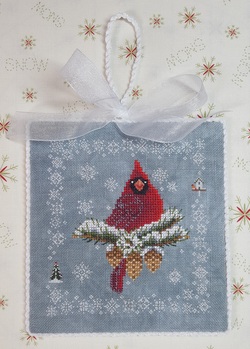 List of DMC Used for Full Stitches:
304 347 415 437 815 3078
310 351 433 498 898 3853
318 352 434 666 935 B5200
321 414 435 814 937
Suggestions for Finishing Ideas:
Besides stitching this chart as a Christmas ornament or a framed piece, you could embellish a needlework sewing pouch which would be used to carry your cross stitch projects. Another possibility, which would be adorable, is to decorate the top of a gift box or a Christmas
jewelry box, or simply make a small pillow or pincushion. For those of you who do not wish to cross stitch over one, why not simply just stitch the cardinal and evergreen branches.
Additional items needed for assembling these designs:

Mill Hill Beads #42010
Backing fabric of your choice
Acid free mat board
White ribbon
Snow by Caron Collections #00White for
the cording is available at quiltersfancy.com
Carter Framing and Art
http://www.carterframingandart.com/
Not everyone enjoys doing their own finishing as I do, which is fine. If finishing your
smalls is not your favorite thing, why not check out my web site under Finishers Tab.
Thank you for interest in my design. I always welcome photos of completed projects, questions or comments. Happy stitching to everyone! --Marie
---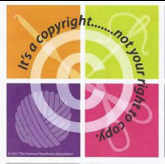 No part of this pattern may be reproduced, unless for a working copy only, in any way without precise written consent from Marie Driskill. This includes NO scanning or reproducing for sharing or uploading to the internet.

The designers and shops appreciate you, the stitcher, for supporting us by not copying our patterns and sharing them among other stitchers. Please remember that coping and sharing charts is illegal. When you purchase from the shops, you are also supporting the designers.


---