Starry Starry Night, Part II
Item #127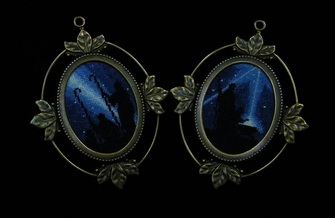 Design #2 to "Starry Starry Night" series.

If you hadn't noticed by now, I love Christmas and stitching this second design gave me much pleasure.

This design can be a Christmas pendant or an ornament. Both patterns fit in one rectangular pendant frame, one on each side. When I wish to achieve a realistic look I use a large variety of DMC threads. One of the designs is the star over Bethlehem with a shephard and his sheep while the other is a silhouette of the Wise Men's journey. Both designs were done in full cross stitch for Bethlehem, trees, sand and the silhouette. The background was done in half stitch and a few French Knots for the sheeps body. Can also be done in Continental Stitch.
Fabric: 40count New Castle by Zweigart®
Design Count: 39"w by 55"h
Design Size(s): 40 Count, 7/8"w by 1-1/8"h

Included with pattern:
Both Designs
DMC Color Chart with Symbols
Fabric
Pendant Frame

Other Design Sizes: 36 Count, 1"w by 1-1/4"h
32 Count, 1-1/8"w by 1-3/8"h
28 Count, 1-1/4"w by 1-1/2"h

The oval frames are available at By-Jupiter
Item #60082


Thank you

We always welcome questions or comments.

Happy Stitching!

Marie

No part of this pattern may be reproduced, unless for a working copy only, in any way without precise written consent from Marie Driskill. This includes NO scanning or reproducing for sharing or uploading to the internet.
---