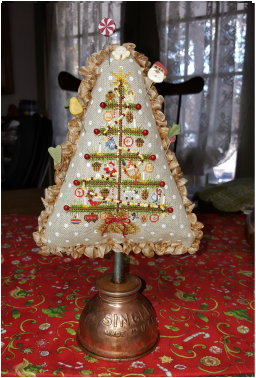 "Christmas Memories"


Item #158
---
Once the large tree was complete I decided to stitch another using the same beads on the chain as the garland on the tree. You can either cross stitch the popcorn chain and candles or use Mill Hill Beads: #62032, 02105, #62041 and #10042 in place of the cross stitching to create a two dimensional effect.

Pattern Description
The large Christmas tree was stitched on 32 count Natural Linen with white polka dots by Zweigart®. The smaller Christmas tree was stitched on 32 count Lambswool, Permin by Wichelt®. Both large and small Christmas trees were stitched using full cross stitch. The star, tree, potato sack base and popcorn chain along with a few ornaments were stitched using two strands of floss over two threads. The remaining ornaments on the tree were stitched using one strand of floss over one thread.

Large Tree Count: 52w by 79h
Large Tree Size: 3-1/4"w by 4-7/8"h

Small Tree Count: 43w by 67h
Small Tree Size: 2-5/8"w by 4-1/8"h

List of DMC Used for Full Stitches:
304 422 666 746 783 931 3801
310 433 676 758 869 935 3822
318 434 712 780 898 937 3828
420 470 728 782 930 3022 3853
B5200


Additional items needed for assembling this design:
Mill Hill Beads #10042, #10036, #70479, #62032, #02105, #62041
Backing Fabric of your choice
Acid Free Mat Board
JABC Popcorn Button #4521.s
Medium Rick Rack or Dinky-Dye 4mm Ribbon #140 - Pilbra
Beading Thread
4mm Round Red Beads - Bead Gallery Item# 33421595571 –
Dyed Red Bamboo Carol at Micheal's craft store
or any 4mm Round Red Beads will do.
Wool Stuffing - pincushion tree
Color Wheat Hand-dyed Rayon Viscose x 2 by Elegant Stitch - pincushion tree
Large mouth straw - pincushion tree


Be sure to find the pickle!!



Not everyone enjoys doing their own finishing as I do, which is fine. If finishing your smalls
is not your favorite thing, why not check out my web site under Finishers Tab.

I always welcome photos of completed projects, questions or comments.

Thank you and Happy Stitching!

--Marie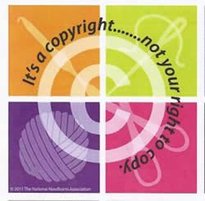 The designers and shops appreciate you, the stitcher, for supporting us by not copying our patterns and sharing them among other stitchers. Please remember that coping and sharing charts is illegal. When you purchase from the shops, you are also supporting the designers.
Thank you,
Marie


---