Starry Starry Night, Part I
Item #123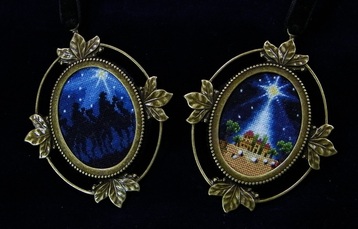 Design #1 to "Starry Starry Night" series.

If you hadn't noticed by now, I love Christmas and stitching this design gave me much pleasure.

This can be a Christmas pendant or an ornament. Both patterns fit in one rectangular pendant frame, one on each side. When I wish to achieve a realistic look I use a large variety of DMC threads. One of the designs is the star over Bethlehem with a shephard and his sheep while the other is a silhouette of the Wise Men's journey. Both designs were done in full cross stitch for Bethlehem, trees, sand and the silhouette. The background was done in half stitch and a few French Knots for the sheeps body. Can also be done in Continental Stitch.

Fabric: 40count New Castle by Zweigart®
Design Count: 39"w by 55"h
Design Size(s): 40 Count, 7/8"w by 1-1/8"h

Included with pattern:
Both Designs
DMC Color Chart with Symbols
Fabric
Pendant Frame

Other Design Sizes: 36 Count, 1"w by 1-1/4"h
32 Count, 1-1/8"w by 1-3/8"h
28 Count, 1-1/4"w by 1-1/2"h

The oval frames are available at By-Jupiter
Item #60082



Thank you

We always welcome questions or comments.

Happy Stitching!

--Marie


---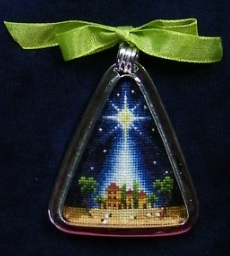 The sterling silver triangular pendant frame is a wonderful way of presenting your finished stitched piece. The pattern does not account for the bottom extensions for both sides for the triangle shape, but you can extend the dark shaded colors by stitching more of the sand and the dark night enough to account for the shape of the pendant. Using an acid free mat board cut out the shape that fits in the triangular pendant frame. Then use the mat board as a guideline for measuring how much you may need to stitch to complete the design. You can also use this photo to assist you when stitching the design.
Inquires for the sterling silver pendant frames at
cutestitches@aol.com
.
No part of this pattern may be reproduced, unless for a working copy only, in any way without precise written consent from Marie Driskill. This includes NO scanning or reproducing for sharing or uploading to the internet.
---