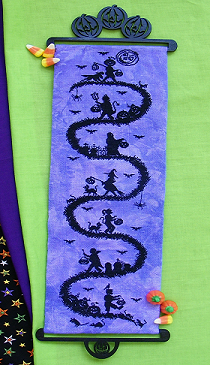 Goblins on Parade

Item#126

The designs were stitched one over one using DMC #310 and Kreinik #025 metallic for the spider's web. The fabrics colors used for this design are all stitched on 28 count over-dyed linen by Picture this Plus Co.
Prank
Flapper
Kermit
Mirage


For the Bell Pull
You may use any Halloween fabric to line the back of the bell pull.
110w X 452h Stitches
3.93"w by 16.14"h

---
Orts Container
256w X 74h Stitches
9.14"w X 2.64"h
If you wish to finish the container as shown, using any Halloween fabric, cut a small piece of fabric to form pockets inside the lining. One holds a 2 ¼" pair of scissors by Bohin and a Spooky Jack button #4828S by Just another Button Company. The button is to hold the scissors in place. The other pocket holds pins by Just Another Button Company (item #jp103).
The pin cushion was stuffed with wool felt, laced around acid free mat board, and after couching four small earth magnets to the bottom of the pincushion, a small piece of orange felt was sewn to the bottom to conceal the magnets and lacing. The pail is wide enough to hold the design snuggly in place, yet can be easily changed to one of my upcoming new Orts designs.
Other Items Needed:
Fabric color choice from
Picture This Plus Company
Wool Felt
Orange Felt
DMC #310
Kreinik #025
4 Small Magnets
Heavy weight interfacing - optional
Halloween Fabric for backing
Acid-free mat boards for pin cushion.
Just Another Button Company - spooky jack #4328 S
& Halloween jp103 bat, candy corn, and half moon Pins
Nordic Needle – mini project accessory tote container #6370
Small piece of thin black velvet ribbon and washer for opening lid
2 ¼" Bohin Scissor
Thank you
I always welcome questions and comments.
Happy Stitching!
--Marie

The designers and shops appreciate you, the stitcher, for supporting us by not copying our patterns and sharing them among other stitchers. Please remember that coping and sharing charts is illegal. When you purchase from the shops, you are also supporting the designers.
Thank you,
Marie
---