"Jolly Olde St Nick"

Item #168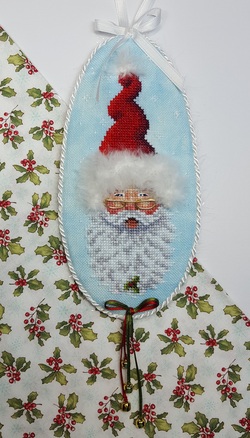 Hello to all cross stitch enthusiasts! I would like to introduce you to "Jolly Olde St Nick". This ornament was cross stitched on 32 Count Belfast Zephyr Linen by PTPC, cross stitching over two threads using two strands of floss. The chart is designed to be completely cross stitched or to use the feather decorative trim for the rim and pompom on Santa's stocking cap. The pattern is charted for DMC and CCW Roasted Marshmallow. DMC Gold Memory Thread was used for Santa's glasses.

Design Count: 44w by 99h Stitches
Design Size: 16 Count, 2-3/4"w by 6"h

List of DMC Floss used for stitching this design:
310 415 758 815 3328
318 471 760 934 3712
321 498 762 937 3778
355 666 796 938 B5200
356 754 814 948
Classic Colorworks: - Toasted Marshmallow

Instructions to assist with Santa's hat and glasses are on the pattern.

---
Additional items needed for assembling these designs:
Christmas fabric of your choice
Acid free mat board
DMC Gold Memory Thread
White Feather Decorative Trim #535849 - Hobby Lobby
1/8" white cording
4 Tiny gold bells – Hobby Lobby
Red and green 1/8" ribbon
White ¼" ribbon


Not everyone enjoys doing their own finishing as I do, which is fine. If finishing your smalls is not your favorite thing, why not check out my web site under Finishers Tab.

Thank you for interest in my design. I always welcome photos of completed projects, questions or comments.

Happy stitching to everyone!

Marie


The designers and shops appreciate you, the stitcher, for supporting us by not copying our patterns and sharing them among other stitchers. Please remember that coping and sharing charts is illegal. When you purchase from the shops, you are also supporting the designs.
Thank you

---