Blackberry Lane Designs would LOVE to see and share photos of your completed piece!

Please forward a photo to Marie!
More Coming Soon
---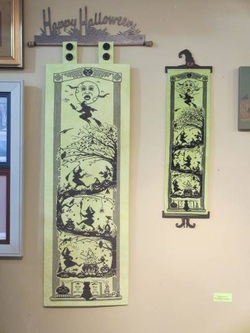 Cathy from Inspired Needle CS Shop in Lemont, Illinois shared
her fb post along with this photo with me about one of her
customers named Karen.

Karen finished her "Witches Night Out" by Blackberry Lane Designs. Karen is a 14 to 18 count stitcher. She did a fab job and even made the hanging tabs so she could hang the design on this great Ackfeld bellpull. She also added some black buttons for interest. I threw in a pic of Karen's next to our shop model so you can see the size variance. Karen is so creative and does not let her fabric count preference steer her away from challenging projects!

This is fabulous Cathy! Thank you so much for sharing this with me and be sure to tell Karen how much I love what she had done with her Witches Night Out!! What an amazing difference of how stitching over one compares to stitching over two. Karen you did
a wonderful Job!! Thank you :-)

Thank you Karen and Cathy for sharing!
What a fabulous job!!

---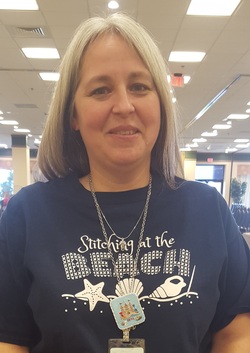 Amy from

Down Sunshine Lane in SC

shared her beautiful finished

stitched sandcastle from

Stitching by the Sea

stitched over one for her name tag.

Thank you Amy for sharing!

Go to Down Sunshine Lane for more information
about the annual October Pals Retreat in MB SC.
---
I met these two lovely Ladies above at the Pals retreat in 2014. I was honored that both of them
brought their finished pieces to share with me at the retreat.

Mary in the photo to the left stitched two of her First Noel series ornament over two with two threads instead of stitching one over one. I had never seen the ornaments completed over two so it was a wonderful surprise for me. It wasn't distorted at all. What a fabulous job!!

In the photo to the right, Caroline shared her wonderful idea of how she finished her Goblins on Parade bell pull. Caroline used a black dowel rod bell pull using matching green and black ribbon for hanging
and finished off all around her stitching with flying bats fabric. The colors matched perfectly!

Thank you Mary and Caroline for taking the time to bring your finished stitched
pieces to share with me. You have no idea how blessed I felt.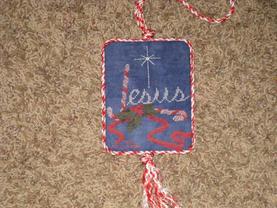 Patti Frank from Cincinnati, OH, a

friend from the Pals Reteat in MB SC,

stitched J is for Jesus ornament from the

2013 Just Cross Stitch Christmas issue.


Thank you for sharing Patti!

---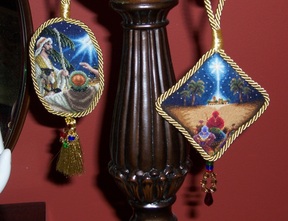 Kate Lanci from Glens Falls, NY

shared her lovely two finished ornaments

from The First Noel series.

Great idea for the beaded tassel!

Thank you for sharing Kate!

---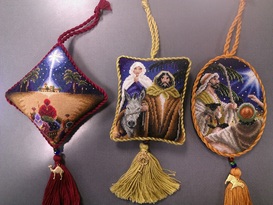 Gail Bindeward also shared her lovely finished

ornaments to the First Noel series.

I love how you changed the cording on each of

the ornaments!

Thank you for sharing Gail!

---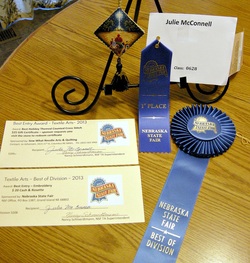 Julie McConnell

won Best of Division at the

Nebraska State Fair with the

Three Wise Men ornament

from the First Noel Series.

Congratulations!!

Thank you for sharing Julie!

---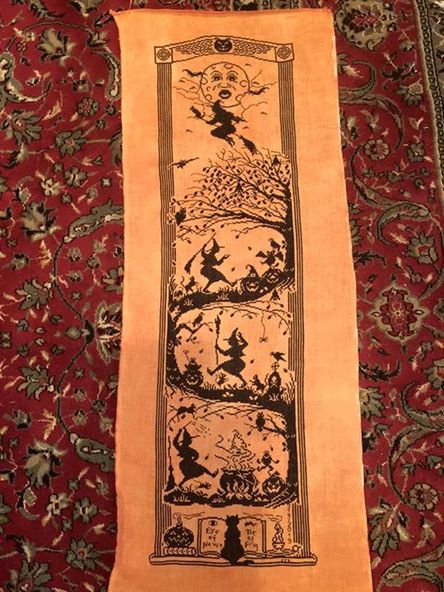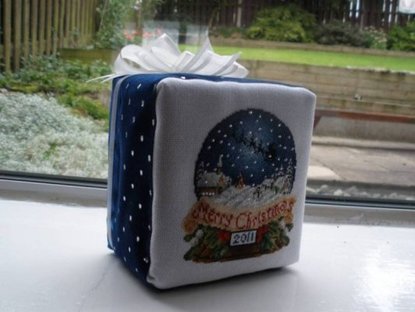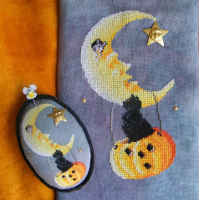 I used a piece of hand dyed linen called Haunted, by Picture This Plus on 28ct Cashel linen stitching one over one for the pincushion. To attach the mini stars to the linen, I used one strand of the over dyed linen and whipped it around several time to hide the brass hole. As you can see, this design doesn't necessary need to be a pin cushion. The larger piece used the same linen, haunted by Picture this Plus, but on 36count linen. It was stitched over two threads using two strands of DMC and it still achieves a rich look.
---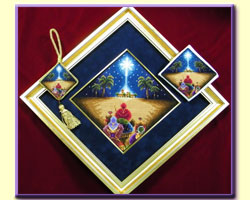 Here are three examples of "The Three Wise Men" stitched in different sizes. Starting from the left, "The Three Wise Men", was stitched on 40ct linen one over one measuring 3" square. The center framed piece was stitched by Joey Behne on 28ct Aida two over two which measures 9" square. To the right Barbara Bukauskus stitched the design on 28ct Lugana evenweave one over one which measures approximately 4.1/3" square.


Thank you so much to two talented Stitchers Joey and Barbara!! I always welcome questions and comments. Happy Stitching!

--Marie

No part of this pattern may be reproduced, unless for a working copy only, in any way without precise written consent from Marie Driskill. This includes NO scanning or reproducing for sharing or uploading to the internet.