Frosty Blue
Item #147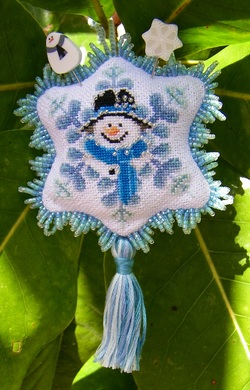 Snow Flake Ornament:
The design was stitched on 28ct Lugana with silver metallic by Zweigart using full cross stitch 1 over 1.

Design Count: 74"w by 80"h
Design Size: 2-5/8"w by 2-3/4"h

Included with pattern:
DMC Color Chart with Symbols
along with beading and tassel instructions


Other items needed to complete this pattern:
2 DMC #3755 Baby Blue for beading and tassel
1 PKG 42010 Mill Hill Petite Beads
1 PKG 42017 Mill Hill Petite Beads
2 PKG 10113 Magnifica Beads
2 PKG 10049 Magnifica Beads
Stuffing
Snowflake and snowman pins
by Just Another Button Comp



Thank you

I always welcome questions and comments.

Happy Stitching!

--Marie

No part of this pattern may be reproduced, unless for a working copy only, in any way without precise written consent from Marie Driskill. This includes NO scanning or reproducing for sharing or uploading to the internet.


---