Bee is for Blackberry
Item # 119
Busy, busy is the bee,
Focused on the blackberry.
Nectar, nectar is a must,
She works away without much fuss.
This design was stitched on 40ct Antique White Linen by Zweigart®, stitching two over two using one strand of DMC #550 for the cross stitch and one strand of DMC #310 for the outline.
The design can be stitched in any color. The pincushion bases are available in red, blue, green, purple, black, orange, and natural.
Blackberry and Bee pins by
Just Another Button Company
The Shaker Pincushion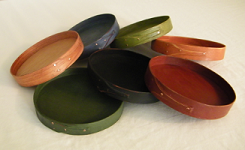 "Bee is for Blackberry" can be stitched in any of the following colors to match the pincushions.
Red, Light Green, Purple, Blue, Dark Green, Orange, Black, Mustard and Natural
(Sold only as pattern. Pins and pincushion are not included in the pattern but can be sold separately upon request.)



Thank you

I always welcome questions and comments.

Happy Stitching!

--Marie

No part of this pattern may be reproduced, unless for a working copy only, in any way without precise written consent from Marie Driskill. This includes NO scanning or reproducing for sharing or uploading to the internet.