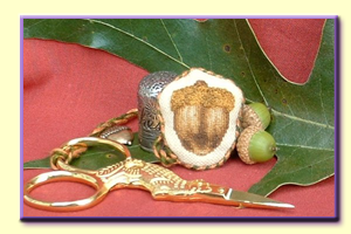 Acorn Scissor Fob
Item#111
This fob is also stitched one over one on 40ct Zweigart® Light Sand linen measuring 5/8"w x 7/8"h. The cap of the acorn is done in french knots using one Weeks Dye Works Thread. The rest of the fob is cross stitched using DMC threads. The fob comes with an acorn charm to twist into the cord and the backing fabric as shown in the picture, measuring 3"sq., big enough to stitch any size over one.
Click for Assembling Instructions
Squirrel
Scissors by
Uncommon Scissors
Thank you
I always welcome questions and comments.

Happy Stitching!
--Marie
No part of this pattern may be reproduced, unless for a working copy only, in any way without precise written consent from Marie Driskill. This includes NO scanning or reproducing for sharing or uploading to the internet.