The Gift
Item #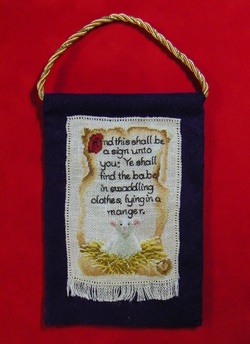 Ornament:
The design was stitched on 36count Earthen Linen
by Picture This Plus Company
Full cross stitch 1 over 1 for the Lamb and straw and half stitches for all remaining.

Design Count: 76w by115h
Design Size: 2"w by 3-1/8"h

Other Design Sizes: 32 Ct, 2-3/8"w by 3-1/2"h
28 Ct, 2-5/8"w by 4"h

Included with pattern:
DMC Color Chart with Symbols
along with finishing instruction


Other items needed to complete this pattern:
Purple backing fabric
Gold cording
Straw



Thank you

I always welcome questions and comments.

Happy Stitching!

--Marie

No part of this pattern may be reproduced, unless for a working copy only, in any way without precise written consent from Marie Driskill. This includes NO scanning or reproducing for sharing or uploading to the internet.


---