"The Three Wise Men"
Item#114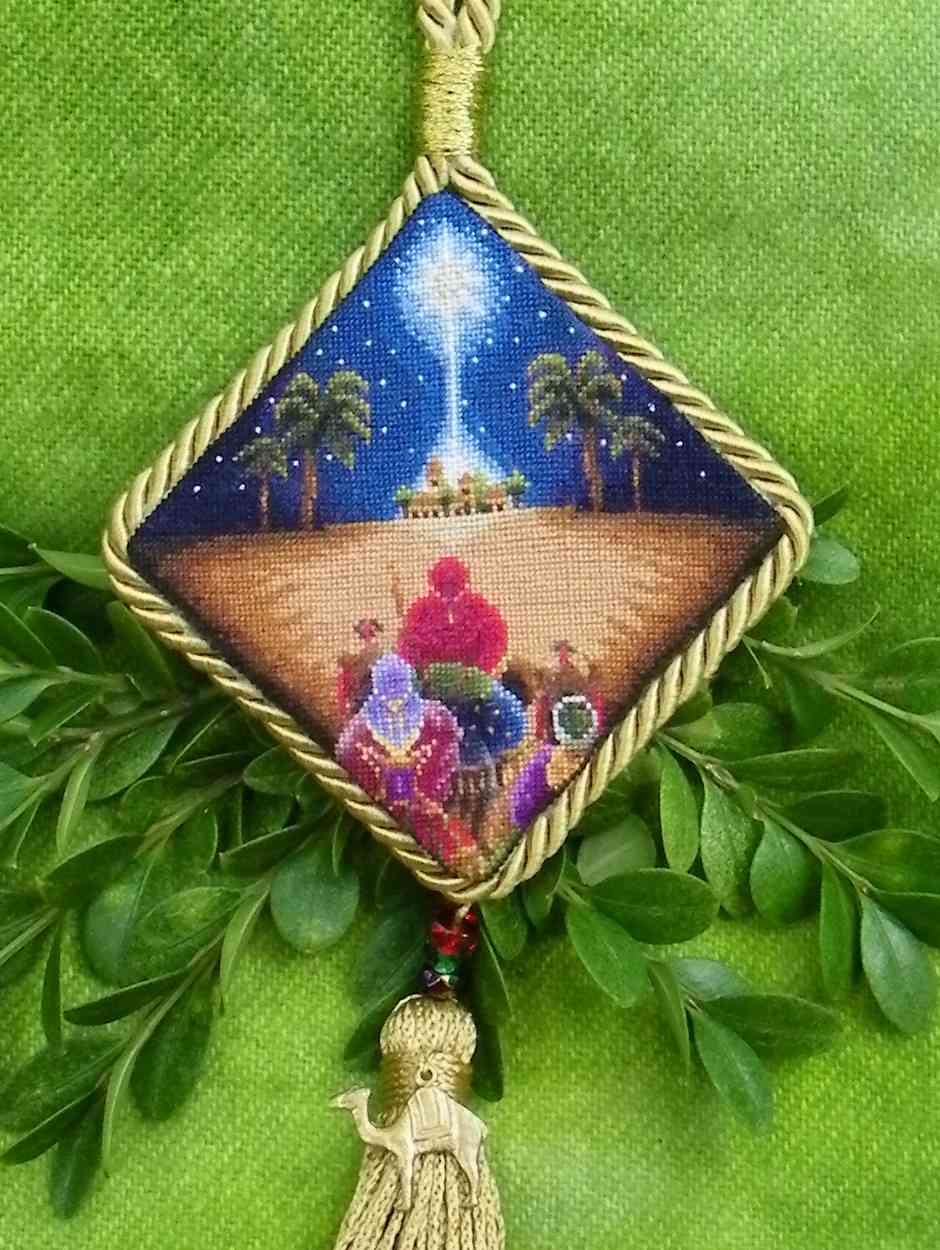 This ornament is one in a series of six ornaments called "The First Noel". I used a small piece of 40ct Summer Khaki from Zweigart® cross stitching one over one. You can use most any snippet of linen, in any count, from your stash. This ornament looks just as rich on 28ct over one as with the 40 ct. To make this heirloom Christmas ornament as realistic as possible a large variety of DMC shading is required. When stitching smalls I use a small scroll frame because it's light weight and easy to handle. In the package you will find the pattern, color chart with symbols, instructions, beads, and a camel charm.

Other items needed to finish pattern:
About 15in. of Gold Cording and one small tassel
Acid Free Mat Board or Cardboard
Solid Color Backing Fabric (I used Deep Blue Velvet)

120w X 120h Stitches
40 Count, 3w X 3h in**
**Can also be done in Continental Stitch
36 Count, 3-1/4w X 3-1/4h in
32 Count, 3-3/4w X 3-3/4h in
28 Count, 4-1/4w X 4-1/4h in

"The First Noel"

1. The Three Wise Men
2. Journey to Bethlehem
3. Keeping Watch
4. Hark! the Angels
5. Waiting for the King
6. Emanuel

Be sure to watch for the second ornament,
"Journey to Bethlehem"
to be released later this year!
I always welcome questions and comments.
Happy Stitching!
--Marie
No part of this pattern may be reproduced, unless for a working copy only, in any way without precise written
consent from Marie Driskill. This includes NO scanning or reproducing for sharing or uploading to the internet.