"Up On The Rooftop"
Item#139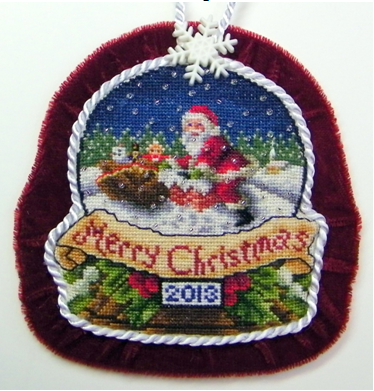 Stitched on 28 Count Cashel Cream by Zweigart®
Stitch count: 82w X 82h Stitches
Design size: 28 Count, 2-7/8"w x 2-7/8"h
Other items needed to finish pattern:
One Package of Mill Hill Petite Glass Beads #42010
No less than18in. Small White Cording
Acid Free Mat Board
Solid Color Backing Fabric (I used Red Velvet)
Opalescent Thread
Snow Flake Button
Notes: This design was stitched one over one on 28ct Cashel Cream Linen by Zweigart®,
using DMC threads, and Kreinik #032 blending filament with DMC B5200 for the snow
I always welcome questions and comments.
Happy Stitching!
--Marie
No part of this pattern may be reproduced, unless for a working copy only, in any way without precise written
consent from Marie Driskill. This includes NO scanning or reproducing for sharing or uploading to the internet.