The Journey to Bethlehem
Item#122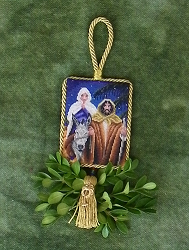 The second ornament to "The First Noel" series.

Fabric used: 32count Linen by Zweigart® 81w X 100h Stitches

Design Size(s):
32 Count, 2-1/2w X 3-1/8h in
40 Count, 2w X 2-1/2h in
36 Count, 2"1/4w X 2"3/4h
28 Count, 2-7/8w X 3-1/2h in

I used a small piece of 32ct linen from Zweigart® cross stitching one over one. You can use most any snippet of linen in any count from your stash, but not too dark so the color won't bleed through, because the entire design is filled in. When I wish to achieve a realistic look I use a large variety of DMC threads. I did use a blending filament, Kreinik #032, with DMC B5200. I feel if you love Christmas as I do when stitching an heirloom ornament for Christmas it should be as realistic as possible. As always when I'm stitching smalls I use a small scroll frame because it's light weight and easy to handle. In the package you will find the pattern, color chart with symbols, the instruction, palm tree charm, and three glass beads.


"The First Noel"

1. The Three Wise Men
2. Journey to Bethlehem
3. Keeping Watch
4. Hark! the Angels
5. Waiting for the King
6. Emanuel
I always welcome questions and comments.
Happy Stitching!
--Marie
No part of this pattern may be reproduced, unless for a working copy only, in any way without precise written
consent from Marie Driskill. This includes NO scanning or reproducing for sharing or uploading to the internet.